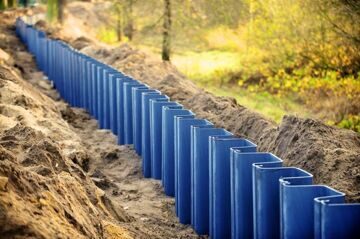 ZKZ LLC (Znamensk Composite Factory) produces a wide range of sheet piles. PVC tongue and groove are building materials used for constructing hydraulic sheet piling structures. They consist of two main elements, a sheet pile and a latching element, and have a different section thickness (4, 6 and 10 mm). When constructing pile structures, a solid wall, in which piles fit tightly to each other, is obtained.
Various profile shapes are offered, e.g. U, S, swivel and cap profiles. The main characteristics of the tongue and groove can be found on our website, on the page containing the information on the tongue and groove: http://nanoArmature.com/nanoArmature.com/shpun-pvh.
Polyvinyl chloride sheet piles are used:
In erecting hydraulic structures, e.g. moorings, dams, moles, dams;
In strengthening the soil, e.g. slopes, quicksands, talus, coastlines of natural and artificial water bodies, canals, islands and bank-protecting wall;
In developing excavations, mines, slopes, bridge supports and landscapes;
In the construction of treatment facilities, dock, reclamation, water intake and drainage structures;
In road works, e.g. tunnels, road protection (from landslides), strengthening of slopes of highways;
In laying heat, oil and gas pipelines.
Basic characteristics of PVC piles
Durability;
Strength;
Resistance to external mechanical impacts (during ice drift, overflow of the river);
High anti-corrosion criteria;
Stability under adverse natural phenomena;
Versatility in use, during transportation, storage, assembly and installation;
Low weight.
Advantages of sheet piles in construction
Reduced construction time;
Easy to assemble and install;
Increased safety after the construction of sheet piles;
Reduced volume of ground works as there is no need to remove excess soil;
The possibility of reusing sheet piles as they can be easily removed from the ground.
You can buy the goods wholesale by contacting our sales department by phone, or by sending a request by e-mail.
You can get any information you are interested in by contacting our Znamensky Composite Factory specialists. After buying PVC piles, you will get additional information on which dipping method to use for the erection of structures and obtain pile driving equipment.